Well, apparently I lost my mojo for a while there, but I'm back on the craftual wagon, so to speak. Since Christmas, I've finished a \'whopping' total of 11 projects (in 6 months, not the best track record), a bunch of which were small, quick stuffed creatures (more on those later). I did finish the Kristi socks I'd been knitting forEVER, but after a few wears (DESPITE the 25% nylon content of the Arucania Ranco I used) accidentally felted them down too small to wear. It made me a sad faery as it took me almost a year to knit them. :( I still have them in my sock drawer - not quite sure why, nostalgia I guess.
I've also completed another test-knit for Patti of
Patti's Patterns
- the
Dragon Wing shawl from Knitty First Fall 2011
! Congrats on Patti for getting into Knitty - I highly recommend this pattern, it's a pretty straightforward knit and you end up with a very unique finished object.
However, the thing that's been my obsession as of late is this book right here: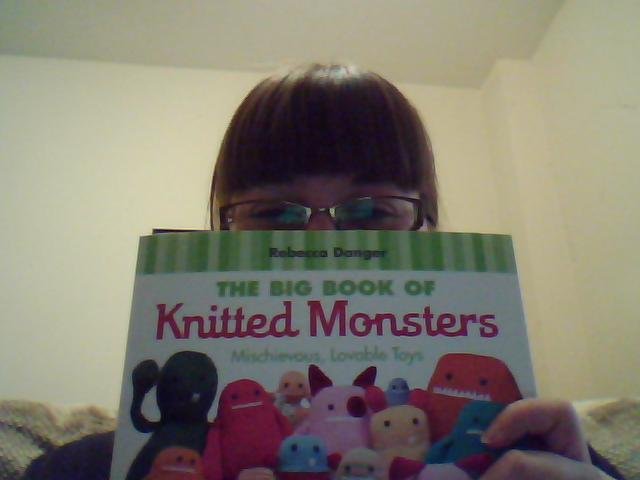 I absolutely LOVE Rebecca Danger's patterns - I have five of the PDF patterns available through
her website
in addition to this book, and I've made four of the monsters in the 2 months since I bought the book and patterns - Frances, Albert, Toothy Joe, and Petunia. I'm also a member of the Dangercrafts group on Ravelry, which is a super-fun place, let me tell you. :) The next one on my needles will probably be Olivia - I LOVE her tutu.
As of right now, I have 3 WIPS, only 1 that's being actively worked on. I've got the Landon sweater STILL in progress (it's been a year and a half, no joke, but it's hard to work on a sweater in worsted weight wool on 40 degree C/104 degree F days), another test/sample knit for Patti that got pushed to the backburner to knit the Dragon Wing shawl, and
Clockwork by Stephen West
. I am so in love with the shawl right now - it's knit in two colours, and I'm using a natural undyed yarn (Knitpicks Bare Fingering Weight Merino) and a SUPER-BRIGHT rainbow gradient yarn (Lang Jawoll Magic Dégradé in colourway 50). I've been watching a lot of movies lately, and the back and forth garter stitch is just mindless enough that I can watch, but the increases/slipped stitches keep it interesting enough that I don't want to gouge my eyes out. I finished the only other active WIP I had - the Springtime Seaweed socks, check 'em out on my Rav page - so the Clockwork is going to get most of my knitting time for the next little while.
There's also been some spinning lately - I spun 4oz of a 70% merino/30% seacell blend into 436m of a fingering weight yarn that I've been trying to decide what to do with. It is GORGEOUS, and easily my best spinning job to date (yes, I am still working on a drop spindle - as much as I'd like a wheel, it's just not doable right now). I also spun 4oz of 100% BFL into approx 200yds of worsted for Petunia, one of the Dangercrafts monsters I made (for the Rav group's June KAL), and I'm currently working on the first batt I've ever spun from, a pretty white and lavender one with glitz called "Fairy Wings", but I will show you those at a later date.
Sorry for the lack of pictures - a lot of my recent FOs need pictures (or better, not-webcam pictures) and it's 2am, not the best lighting right now. Hopefully I will actually take said pictures and be back soon to share them! :D